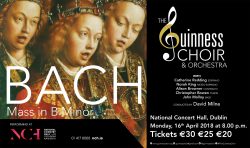 The 2017 – 2018 Season continues its promise of being another wonderful feast of glorious choral music.
On Monday 16th April 2018, at 8p.m., The Guinness Choir will be in the National Concert Hall, Dublin to perform the 'B Minor Mass' by Johann Sebastian Bach.
This glorious setting of the Mass is widely recognised as one of the greatest compositions in musical history. Although completed in 1749, the year before Bach's death, it wasn't performed in full until 1859 and since that time it has become established in the repertoire of all the great choirs and performers.
In this performance, The Guinness Choir and Orchestra, under Musical Director, David Milne, is delighted to be joined by:
Catherine Redding, Soprano
Norah King, Mezzo Soprano
Alison Browner, Contralto
Christopher Bowen, Tenor and
John Molloy, Bass
Ticket prices are €30, €25 and €20 and are available from the National Concert Hall at https://www.nch.ie/ 

We would love to have some more male voices, in order to achieve the balance we require. If you are a Tenor or a Bass and would like to sing with The Guinness Choir, please do contact our Secretary, Ada Kelly at guinnesschoir@gmail.com. We will schedule further auditions as appropriate.
Click Here for more information on joining The Guinness Choir.