Messiah in Phibsborough
On 24th November 2019 in St. Peter's Church, Phibsborough Guinness Choir will be performing Handel's Messiah.
Be moved by this favourite of music lovers the world over. Experience the powerful poise of The Guinness Choir. Allow Colette Boushell, Patricia Bardon, Rory Musgrave and Andrew Boushell to touch your soul. This rich tapestry of chorus, soloists and orchestra takes place on Sunday, November 24th 2019 at 7.30pm in Dublin's iconic St Peter's Church, seated at the head of Dublin's coolest neighbourhoods.
To purchase tickets please click the button below. For more information visit St. Peter's Church websute
Christmas Concert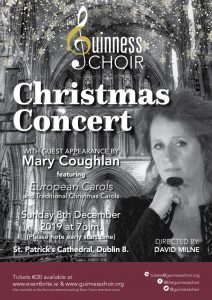 On 8th December 2019 at 7p.m. in St. Patrick's Cathedral, Dublin we will perform our Christmas Concert with special guest, Mary Coughlan.
The choir will perform beautiful carols from around Europe, including England, France, Russia and Spain, reminding us that Christmas is an international celebration.
This year we are super delighted that Mary Coughlan is our special guest. In addition to hearing Mary sing unaccompanied, we will have the pleasure of performing a number of songs with Mary arranged for choir by our musical director David Milne.
Mary is our greatest female singer because over twenty-five years and ten albums she's made the most grown-up, uncompromising, wholly personal and utterly universal music on either side of the Atlantic about what goes on between men and women. No one can fail to be moved by the emotional depth, expression & power in her voice, forged from an extraordinary life.
Born in Galway 60 years ago, Mary has battled and overcome childhood trauma, near-death from alcoholism and drug addiction. After hitting rock-bottom and extensive periods in psychiatric hospitals and rehab centres, she literally pulled herself out of the dregs of a vodka bottle to confront the foundations of her problems head-on and sort out her life, and has been sober since 1993.
Her ability to connect so emotionally & empathically with both the song & her audience is testament to her inner strength, and to the power of transformation & redemption. Her songs resonate with life experience, her husky voice pulling every ounce of emotion from the music.
Tickets €20 unreserved seating (some restricted views)