Corporate Sponsorship
By becoming a corporate sponsor of The Guinness Choir, you can reinforce your brand ethos by association with excellence, prestige, culture, heritage and civic pride.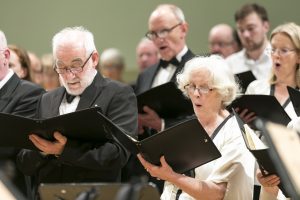 Corporate sponsorship of The Guinness Choir offers your organisation a range of benefits including corporate entertainment, PR and Advertising opportunities, meeting your Corporate Social Responsibility objectives and rewarding staff as part of employee engagement strategies.
For more information contact John Healy on marketing@guinnesschoir.org
Our Corporate Sponsors and our Corporate Partners will receive:
Regular advance communications and reminders
Listing and logo on our website homepage
References on our Facebook and social media platforms
Opportunities to meet our music director and soloists
Invitations to special events
As well as the above
Corporate Sponsors will receive:
8 x VIP complimentary tickets, with reserved seats, for our concerts
Page advertisements in all our concert programmes
Corporate Partners receive:
As a Corporate Partner you will receive:
4 x VIP complimentary tickets, with reserved seats, for our concerts
Half page advertisement in all our concert programmes
In addition to supporting general activities of the choir, corporate sponsors can also become associated with special individual projects, such as international soloists, new commissions and other important initiatives which we would like to pursue.
We would love to talk with you about these opportunities and your requirements.
For more information on how to become a Corporate Sponsor or for more information, you can contact Eva Acton on marketing@guinnesschoir٠com. You can also use our Contact Form by clicking here.
For more information on our current Sponsors please click here.