Dream of Gerontius –  Edward Elgar
Postponement due to Covid-19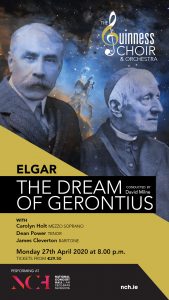 In light of the restrictions being imposed to combat the Covid-19 virus, The Guinness Choir has made the unavoidable decision to postpone its forthcoming performance of Elgar's 'The Dream of Gerontius' at the National Concert Hall, Dublin on 27th April 2020. We hope to be able to reschedule the concert at some time after this current health crisis has been overcome.
The health and well-being of our audiences, musicians and members is of paramount importance to us. Please do follow the official advice and we will make great music again in good time.
For enquiries regarding ticket refunds, please see the Covid-19 notice on the National Concert Hall website. NCH customers will be refunded in due course. The NCH can be contacted via email at info@nch.ie
Keep well.
SUPPORT DURING COVID-19

Many artists are financially struggling during this pandemic. However, the Civic Theatre is raising money to support them. To donate and find out more information click here.
---
Similarly, Sing Ireland is organising a virtual choir to sing Ireland's Call. Deadline to sign up is Monday 30th March.
Check out more information here!