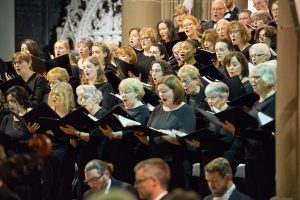 The Guinness Choir was founded in 1951 all of 70 years ago for the employees of the Guinness brewery. It is one of the oldest mixed choirs in Dublin and was one of the earliest 'works' choirs in Ireland. The choir has since left the ambit of the brewery and is an independent, self-funded choir attracting amateur singers from all over Dublin and beyond to sing the great oratorios and major classical works as well as more modern pieces. Over the years, the choir has given multiple hundreds of amateur singers the opportunity and honour to perform these works with professional orchestras and soloists in major venues in Ireland and abroad.
Your Support during Covid
The Guinness Choir would like to thank all those who have continued to support us through these recent turbulent times. In particular we greatly appreciate the support of our principal Sponsors, our Friends and Patrons and our loyal audiences, including our followers on social media, who have shown such patience and understanding.
Health and safety is always our primary concern and we will continue to follow whatever requirements and protocols are mandated by government, while the Covid virus remains in the community. Currently at rehearsal we provide ventilation and CO2 monitors and the wearing of masks is encouraged.
We look forward to performing for you all in our 'Sing Again' concert on 14 May 2022.
2021-2022
"Sing Again" Concert 14th May 2022
On 21 January 2022 Taoiseach Micheál Martin said, when announcing the lifting of many restrictions imposed due to the Covid pandemic, "We need to see each other again. We need to see each other smile. We need to sing again." We couldn't agree more!! And you will be able to meet each other and see each other smile as we 'Sing Again' in St Patrick's Cathedral on Saturday 14 May 2022 at 7:30p.m.
This 'Sing Again' Concert will lift your spirits and set us all up for a joyful summer.
We will be performing a lovely, heart-warming programme of classical and some modern choral pieces, bringing back to life the magnificent sounds of Bach, Bruckner, Fauré, Handel, Haydn and Mozart and the world premiere of 'The Weaver' composed for The Guinness Choir by Judith Ring. (See opposite)  The programme will include our special guests Niall O'Sullivan, trumpet; Catherine Redding, soprano and David Leigh, organ. Tickets (inc booking fee): €25 and €15 (restricted views) are now available on Eventbrite.
The Guinness Choir stands in solidarity with the Ukrainian nation and its people who are suffering so much. Please donate towards humanitarian aid for the people of Ukraine. All donations go to the Irish Red Cross Ukraine Appeal. Thank you.
'Christmas Oratorio', J.S. Bach December 2022
We are planning ahead!
We will perform JS Bach's 'Christmas Oratorio' in the Royal Dublin Society (RDS), Dublin on Sunday18th December 2022.
This breath-taking masterpiece, written specifically for the Christmas season, comprises some of the most beautiful of Bach's chorales in a powerful exultation of life. It will be a truly moving experience for all.
New Composition – Judith Ring
To mark our 70th anniversary, the choir has commissioned Irish composer Judith Ring to compose a ten minute choral work based on the poem 'The Weaver' by Diane Tierney. This will receive its world premiere as part of our 'Sing Again' concert on 14th May 2022. This initiative is supported by the Arts Council of Ireland.
PhD Scholarship
Over the course of its 70 year history, The Guinness Choir has maintained an extensive library and archive. This is now housed at the Conservatory of Music at the Department of Music, TU Dublin, Grangegorman, where it can be maintained and shared with students.
In collaboration with the Conservatoire, the choir has initiated and is funding a PhD so that this unique and important archive can be properly researched. After an open competition, the Scholarship has been awarded to Roddy O'Keefe, lecturer, Cork School of Music, who will commence his research in November 2021. The choir looks forward to interim reports from Roddy and to the publication of his findings over the next few years.
AUDITIONS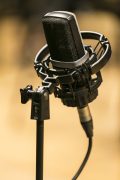 Please join us and have a great time making great music!
We managed to rehearse online during Covid-19 lockdowns. In September 2021 and more recently in February 2022, we held auditions and we are delighted to welcome a lovely group of new singers who have already settled in to rehearsing with fellow singers.
If you would like to join The Guinness Choir click here for more information about auditions.
REHEARSALS
Currently we are rehearsing in Rathgar, Dublin on a short-term basis in advance of relocating to the Royal Hospital Donnybrook.
Our YouTube channel shows what some of our members say about their experience of auditioning and singing in the choir.
Here's what Liliana (soprano) and Ben (bass) say: