2021-2022
70th Anniversary Season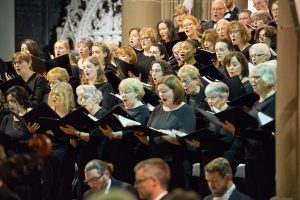 It has been great to be back singing in rehearsal for these last couple of months! We are all still somewhat restricted and, of course, it's better to be safe than sorry, but nonetheless we were finally able to sing together again.
The Guinness Choir was founded in 1951 all of 70 years ago for the employees of the Guinness brewery. It is one of the oldest mixed choirs in Dublin and was one of the earliest 'works' choirs in Ireland. The choir has since left the ambit of the brewery and is an independent, self-funded choir attracting amateur singers from all over Dublin and beyond to sing the great oratorios and major classical works as well as more modern pieces. Over the years, the choir has given multiple hundreds of amateur singers the opportunity and honour to perform these works with professional orchestras and soloists in major venues in Ireland and abroad.
Unfortunately our hopes of starting the 70th Anniversary celebrations with our Christmas Concert in St. Patrick's Cathedral and of singing to an audience, were dashed when we had to cancel our Christmas Concert in St Patrick's Cathedral, which was to feature the wonderful singer songwriter Tolü Makay! (see below).
In the new year, 2022, we will commence rehearsals for our Gala concert comprising Mozart's 'Great Mass in C Minor' and the much adored Mozart 'Requiem' together with the premiere of our commissioned work 'The Weaver' by Judith Ring (see below).
This marvellous concert will be performed in the spring of 2022 (details to follow).
Listen here to the glorious Kyrie from the Great Mass in C Minor.
Christmas Concert in St Patrick's Cathedral
CANCELLED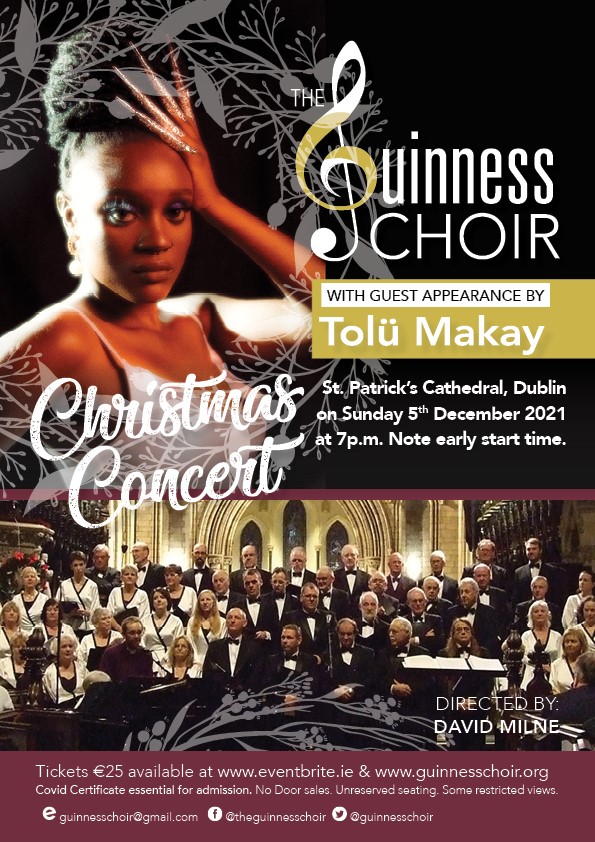 We are so disappointed to have to cancel our annual Christmas Concert which was to be held on 5th December 2021 at 7p.m. in St. Patrick's Cathedral, Dublin where we were looking forward to performing a range of glorious carols and to performing with our special guest, Tolü Makay. The health and safety of all participants and audience was a priority.
All ticket  holders will be refunded via Eventbrite or through the choir as appropriate.
We are sorry to miss this chance to sing with Tolü and we wish her the best in what is sure to be a stellar career.
New Composition – Judith Ring
By way of marking our 70th anniversary, the choir has commissioned Irish composer, Judith Ring, to compose a ten minute choral work based on the poem 'The Weaver' by Diane Tierney. This will receive its world premiere as part of our upcoming season. This initiative is supported by the Arts Council of Ireland.
PhD Scholarship
Over the course of its 70 year history, The Guinness Choir has maintained an extensive library and archive. This is now housed at the Conservatory of Music at the Department of Music, TU Dublin, Grangegorman, where it can be maintained and shared with students.
In collaboration with the Conservatoire, the choir has initiated and is funding a PhD so that this unique and important archive can be properly researched. After an open competition, the Scholarship has been awarded to Roddy O'Keefe, lecturer, Cork School of Music, who will commence his research in November 2021. The choir looks forward to interim reports from Roddy and to the publication of his findings in the next few years.
AUDITIONS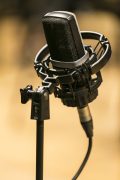 Please join us and have a great time making great music!
We managed to rehearse online during Covid-19 lockdowns. In September 2021 we held auditions and we are delighted to welcome a lovely group of new singers who are joining us in time for the start of this big season.
Currently we are rehearsing in Rathgar, Dublin on a short-term basis in advance of relocating to the Royal Hospital Donnybrook.
We expect to hold further auditions in January 2022. So, it's not too late to be part of our Gala Concert in the spring! Click here  for more information about auditions.
In the meantime, have a listen here to some of Mozart's Great Mass in C Minor which we will be rehearsing!
Here's what Liliana (Soprano) says about her experience of auditioning and singing in the choir.