Dream of Gerontius –  Edward Elgar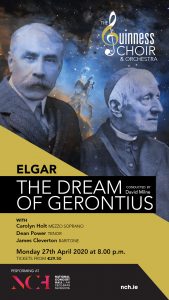 On Monday 27th April 2020 at 8p.m. in the National Concert Hall, Dublin The Guinness Choir will perform 'The Dream of Gerontius' by Edward Elgar.
The Dream of Gerontius, Op. 38, is a work for three soloists, orchestra and chorus, in two parts composed by Edward Elgar in 1900, to text from the poem by John Henry Newman. It relates the journey of a pious man's soul from his deathbed, transitioning via Angels, Demons and through Purgatory before his final judgment before God. The piece is widely regarded as Elgar's finest choral work, and some consider it his masterpiece. Of it Elgar said "This is the best of me".
The performance will comprise a large orchestra and the extraordinarily talented and already internationally acclaimed young soloists:

Carolyn Holt, Mezzo Soprano, 
Dean Power, Tenor and 

James Cleverton, Baritone.
Tickets available at www.nch.ie with prices starting at €29.50. 10% discount for tickets purchased before 17th March. More information here.
By becoming a corporate sponsor of The Guinness Choir, you can reinforce your brand ethos by association with excellence, prestige, culture, heritage and civic pride.
Corporate sponsorship of The Guinness Choir offers your organisation a range of benefits including corporate entertainment, PR and Advertising opportunities, meeting your Corporate Social Responsibility objectives and rewarding staff as part of employee engagement strategies.
For more information click here or contact John Healy on marketing@guinnesschoir.com.