PLAYLISTS
Our Musical Director, David Milne, has been busy putting together playlists for us to enjoy. They are in chronological order and each provides for a specific period in music history. Keep an eye on this page and our social media as more will be available soon.
You can access them on Spotify or YouTube by clicking the links below. We hope you enjoy them as much as we do!
Dream of Gerontius –  Edward Elgar
Postponement due to Covid-19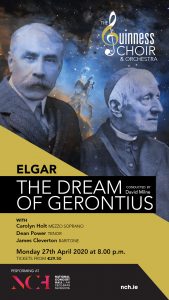 In light of the restrictions being imposed to combat the Covid-19 virus, The Guinness Choir has made the unavoidable decision to postpone its forthcoming performance of Elgar's 'The Dream of Gerontius' at the National Concert Hall, Dublin on 27th April 2020. We hope to be able to reschedule the concert at some time after this current health crisis has been overcome.
The health and well-being of our audiences, musicians and members is of paramount importance to us. Please do follow the official advice and we will make great music again in good time.
For enquiries regarding ticket refunds, please see the Covid-19 notice on the National Concert Hall website. NCH customers will be refunded in due course. The NCH can be contacted via email at info@nch.ie
Keep well.
SUPPORT DURING COVID-19

Many artists are financially struggling during this pandemic. However, the Civic Theatre is raising money to support them. To donate and find out more information click here.
---
Self Isolation Choir
Inspired by our Playlists of beautiful choral music through the ages? Here's a way that you can actually sing while in lockdown!
Join the 
Self Isolation Choir for a performance of the Messiah
. The choir was set up just a couple of weeks ago as a response to the impact of the coronavirus. The two simple objectives are to provide an opportunity to sing and to raise money for the many unemployed musicians. There is a £14.95 Registration fee, £5 of which will be donated to musicians. Already there are approximately 3,000 singers registered from over 50 countries worldwide.
When you register you will receive an email with instructions and a link to a full score of the Messiah which you can download to your device. You can also access sectional voice recordings from Choraline, at a 50% reduction, to help you along.
Rehearsals of the full choir take place at 7. 30pm on each Monday, on the 
Self Isolation Choir YouTube channel
, with Soprano rehearsal on Tuesday, Altos on Wednesday, Tenors on Thursday and Bass on Friday. Rehearsals are scheduled for one hour.
A full performance of Handel's Messiah will take place on 31st May, with orchestra and soloists, under the direction of Ben England.
Ben has led a couple of rehearsals already, but is very encouraging of more singers to join as there is plenty of time to catch up.
This is  an unusual way to prepare for and to sing the Messiah, of course, but a great way to sing a truly magnificent oratorio, amongst a global community of like-minded people, help alleviate the financial plight of so many musicians and to raise your own spirits during this challenging time.
Enjoy and Keep Well