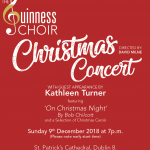 The Guinness Choir will perform their annual Christmas Concert in St. Patrick's Cathedral, Dublin on Sunday, 9th December 2018 at 7p.m.
The concert will feature festive works including Bob Chilcott's wonderful 'On Christmas Night' and will feature our special guest, singer-songwriter, Kathleen Turner. We will finish the night with a selections of well-known carols.
This concert will warm your heart on a winter's night and provide a perfect platform to start your Christmas season. It is sure to sell out quickly, so early booking is advised. We look forward to seeing you all there. Tickets are €15 and are available now.
You can find details of our recent concerts by clicking here.