Our next concert will take place on Monday 4th June 2018. We will be joining with the Michael O'Neal Singers, from Atlanta, Georgia, USA as part of their concert tour of Ireland. The venue is the wonderful Christ Church Cathedral, Dublin.
The musical programme will offer a fine combination of choral pieces, both classical and contemporary, from the States and Ireland.
The Michael O'Neal Singers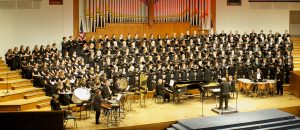 Based in Roswell, Atlanta, the Michael O'Neal Singers (MOS) has, since its inception in 1989, established itself as one of the premier symphonic choruses in the Southern United States. Composed of an auditioned 155-voice symphonic chorus and an ensemble of 40 voices, MOS provides choral presentations of artistic excellence and programmatic variety.
Through a variety of choral programming – classical masterworks with orchestral accompaniment, sacred and secular music of the Western European tradition, music from other cultures around the globe, and choruses from opera, Broadway, and movies – the Michael O'Neal Singers offers an attractive spectrum of musical experiences in its concerts. The singers represent a cross section of the citizens of the metropolitan Atlanta area and range in experience from dedicated amateur musicians to veteran professionals.
Now in its twenty-ninth season, The Michael O'Neal Singers has established a reputation for choral excellence that extends throughout the United States and abroad, as subscription series performances, concert tours, and a growing discography have received acclaim from audience members and music critics alike. The full chorus has eighteen recordings to its credit and has performed in some of the most notable venues in the world, receiving high accolades for artistic excellence and crowd-pleasing programming. These venues include Carnegie Hall in New York; the historic St. Giles Cathedral in Edinburgh, Scotland; St. Paul's Cathedral and Westminster Abbey in London; as well as the Parisian landmarks of Notre Dame and Sacre Coeur.
In July 2008 members of MOS performed multiple concerts at the Amalfi Coast Music and Arts Festival in Italy, and returned there in July 2011. Members of MOS performed concerts in Spain in 2014; in Austria in 2016; and will return to Europe to perform three concerts in Ireland in spring 2018.
Their most recent performance was of Brahms's 'A German Requiem'
('Ein Deutsches Requiem') on 21 January 2018 at Roswell United Methodist Church (UMC).
---
Dr. Michael O'Neal is nationally and internationally recognised as a leader in choral music, with an established reputation as a conductor, tenor soloist, educator and church musician.
He has guided MOS since its inception in 1989 with his vision for attaining the highest standards of choral excellence. Dr. O'Neal has conducted over sixty major choral/orchestral masterworks.
In May 2000, Dr. O'Neal made his conducting debut at Carnegie Hall, directing a choir comprised of 150 singers from The Michael O'Neal Singers and the Roswell UMC Sanctuary Choir joined by professional soloists and orchestra for a performance of Schubert's Mass in G. In July 2000, he conducted the Irish premiere of Mary McAuliffe's Return to Old Ireland at Dublin's National Concert Hall.
O'Neal's solo career has included opera and oratorio performances in Italy and Belgium and appearances on National Public Radio and the Armed Forces Radio Network. Dr. O'Neal performed on five occasions as a soloist with the Atlanta Symphony Orchestra under the baton of Maestro Robert Shaw and was a member of the Robert Shaw Festival Singers in France for two seasons. His work with Shaw evoked the following accolade: "Michael O'Neal possesses fine musicianship, a good sense of style, familiarity with good vocal and choral sound, and a personal integrity and devotion to music. Though personally talented, he always manages to see that the music comes first."
Dr. O'Neal taught at the university level for 20 years and has served as a church musician for over 40 years. At Roswell UMC, O'Neal currently conducts the 120-voice Sanctuary Choir and the 75-voice Prime-Time Singers, as well as supervises the entire Worship Arts program. Dr. O'Neal and his wife, Dr. Judy O'Neal, have two children and three grandchildren.