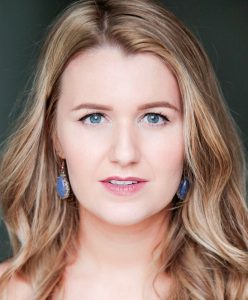 Carolyn Holt, recently graduated of the Royal Conservatoire of Scotland's international opera, having previously graduated in 2017 with Distinction from the Royal Academy of Music. She won the Dermot Troy Prize for the best Irish singer in the 2019 Veronica Dunne International Singing Competition and recently sang the role of Sister Helen Prejean in the UK staged premiere of Dead Man Walking in Glasgow to great critical acclaim.
Carolyn has appeared in Purcell's Dido and Aeneas and Weill's Street Scene both at the Royal Conservatoire of Scotland; as well as Strauss's Die Fledermaus, Stravinsky's Oedipus Rex, Handel's Giulio Cesare, Puccini's Suor Angelica, Cilea's L'Arlesiana and in Die Zauberflöte.
In May 2019 Carolyn gave an inspiring performance in The Guinness Choir's presentation of Bach's Easter Oratorio and Ascension Oratorio at the National Concert Hall, Dublin
Carolyn also performs contemporary music and in Autumn 2019 sang the role of The Witch of Youghal in the world premiere of Raymond Deane's Vagabones for Opera Collective Ireland which toured Ireland. Other contemporary roles include Minskwoman in Jonathan Dove's Flight, the premiere of The Art of Chaos in Dublin and the premiere of the award winning opera The Second Violinist by Donnacha Dennehy and Enda Walsh.
In 2018 she toured Ireland singing Mahler's Lieder eines fahrenden Gesellen with the Esker Festival Orchestra and was the soloist in Elgar's Sea Pictures with the Lambeth Orchestra.
Visit Carolyn Holt's website for more information.