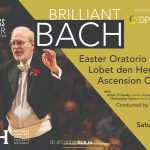 Our end of season concert took place in the National Concert Hall on 11th May 2019. The choir and orchestra conducted by David Milne performed three brilliant pieces; Easter Oratorio, Lobet den Herrn and the Ascension Oratorio. We were joined by a number of well-known orchestral players along with four brilliant soloists: Soprano – Roisín O Grady, Mezzo Soprano – Carolyn Holt, Tenor – Christopher Bowen and Bass – John Molloy. 
This was a rare opportunity to hear these two brilliant oratorios by Bach as they are rarely performed together. Being on the 11th May, the concert sits comfortably between the celebration of Easter and the Ascension and this programme was very definitely a celebration.
Right from the start you had the brilliance of the orchestral introduction and the crisp articulation of the chorus of the Easter Oratorio. Lobet den Herrn, though the shortest of Bach's motets, is yet full of energy and invention and suggests almost shouts of joy in the closing Alleluia. The concert was completed with the Ascension Oratorio, giving a deep sense of joy and delight.