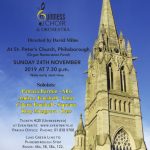 Messiah in Phibsborough
On 24th November 2019 in St. Peter's Church, Phibsborough Guinness Choir performed Handel's Messiah with soloists Colette Boushell – Soprano, Patricia Bardon – Alto, Rory Musgrave – Tenor and Andrew Boushell – Bass. This Concert took place in Dublin's iconic St Peter's Church, which is seated at the head of Dublin's coolest neighbourhoods – Phibsborough. The proceeds of this concert went towards the restoration of the organ in St. Peter's Church and this sold-out concert was one of many to come. We were also honoured to welcome our President Michael D. Higgins to this concert along with other esteemed guests.
Click here to access St. Peter's Church website.